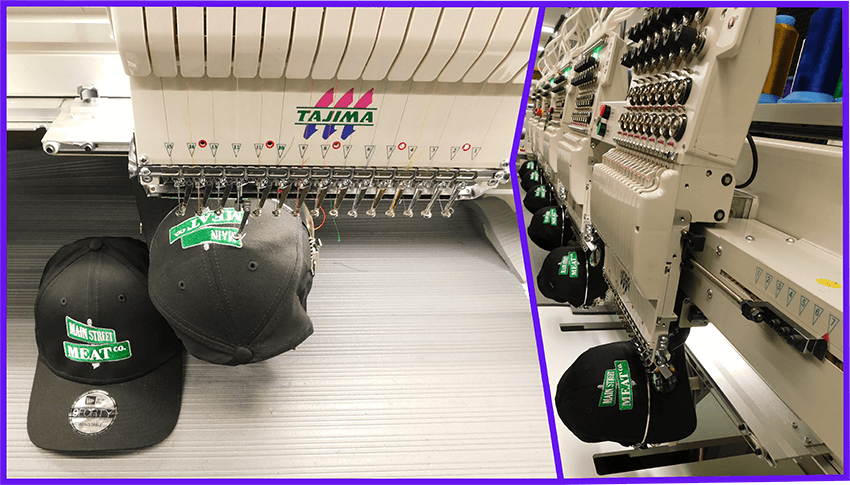 Embroidery brings your logo to life using needle & thread. This decoration method adds professionalism to your company apparel. It is perfect for hats, jackets, dress shirts, and polos.

Custom Embroidery is what we do every day,  it's kind of a big thing around here at Embroid This.  Turning your company logo into a stitchable file that sews smoothly and looks great on the type of fabric you want is an art form. That process, called "digitizing", is where we take your logo and calculate every needle poke so your logo looks fantastic. Different fabrics sew differently and require some "tweaking" to make every fabric sew properly, including for dry-fit polos, woven dress shirts, Carhartt jackets, caps, and beyond. 
If you ask 10 artists to create an embroidery file, you will get 10 different files.  We pride ourselves on knowing what is going to make your logo look its absolute best. The finished product all depends on the building blocks of the stitch file.
To get started, just email us your design, let us know the approximate size you would like it, and we can then estimate the amount of stitches. Embroidery is priced by the total stitch count which can be affected by the size of the image, how much fill exists, and the number of outlines. We keep it simple since we include the first 10,000 stitches at one low price.
Once we have your file, we can then put it on just about anything we can poke with a needle, including towels, polos, dress shirt, jackets, bags, caps, hats, coolers, stocking caps, dad hats, scrubs, safety vests, and soo much more. 
Please email us your project and let's see how we can help bring your ideas to life.